I have a ​Samsung ML-1750 printer with a ​TL-Link TL-PS110P Single Parallel Port Fast Ethernet Print Server functioning as my BW laser printer for a long time.
The Linux drivers still ​work like a sharm, yet on Windows on every new release it becomes more and more a struggle to keep the printer running. In order to keep it running under Windows 10 x64 it is a challenge.
Windows 10 (x64) instalation
Background
The PCL6 version of the printer is 3.15 (03-03-2003), I have tried printing with the Samsung generic PCL6 driver, yet this yield "PCL6 ERRROR", so imcompatible PCL6 commands are issued
The PCL5e 1.63 (03-06-2003) yet I cannot not find a generic Windows default driver for it.
The EPSON/IBM 1.02 (01-23-2003) has also no compatible driver.
The SPL 1.16 (12-30-2002) the Samsung Printing Language is luckaly still supported by the generic driver.
Instalation
I have done the following steps:
Install the "Universal Print Driver ver V2.50.06.00:03, Win 2000/XP/2003/2008/Vista/Win 7/Win 8(32/64bit) (MULTI LANGUAGE)" from the

​

support page Altough it does not list "Win 10" it will still install fine.
Install and configure the TL-PS110P acording to its

​

manual
Printing now works yet it only prints one job Brooksnet ​provided me with a usefull hint about enabling the LPR Byte Counting, I guess this is required for the TL-PS110P to handle my print requests properly: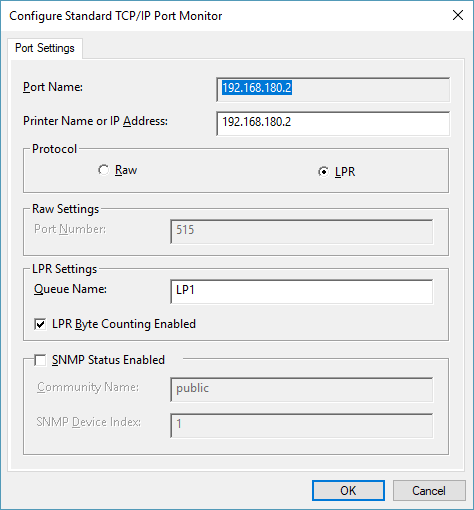 Just to be sure I also checked the Samsung driver details page and set the protocol to SPL and selected the correct model):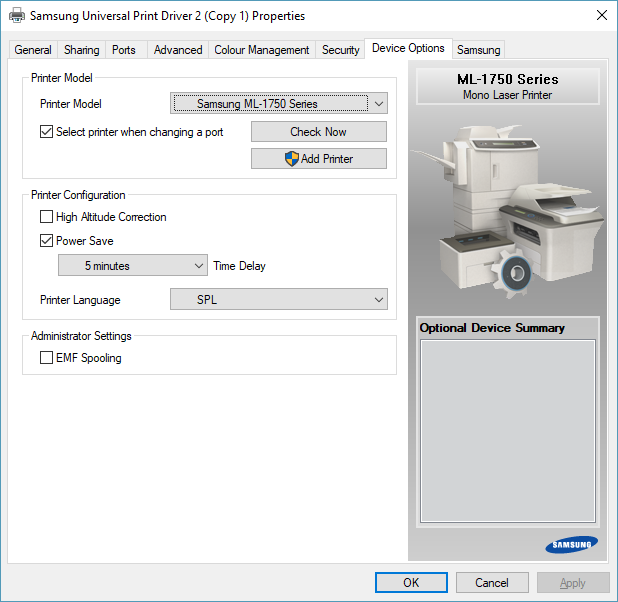 Attachments
(2)
Download all attachments as: .zip
Note:
See
TracWiki
for help on using the wiki.