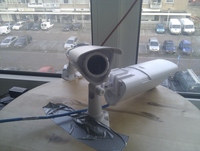 The new Ubiquiti Aircam is an great and cheap IP webcam.
Quirks
As in 1.13 do not issue PAUSE on the RTSP as it causes the stream to crash.
If you have DHCP running it will get an automatic IP assigned.
Single Snapshot
You can get an single snapshot using the HTTP or using the RTSP:
HTTP:
$ curl -c /tmp/cookies.txt http://ubnt/login.cgi && curl -o snapshot.jpg -LH 'Expect:' -b /tmp/cookies.txt -F username=ubnt -F password=ubnt -F uri=/snapshot.cgi http://ubnt/login.cgi
RTSP:
$ ffmpeg -i rtsp://ubnt/live/ch00_0 -frames 1 snapshot.jpg

Pro Series?
Looking at the firmware there are a whole bunch of features which I cannot find at my normal AirCam so I guess they will show up in the pro series:

SD Card Support:


AirCam.v1.1.3# strings /bin/ubnt-streamer  | grep -i Record
Recording stopped
SD card is full, can not record!%s
Recording started to %s


Motion Detection

AirCam.v1.1.3# strings /bin/ubnt-streamer  | grep -i motion
/var/run/motion_event
/var/run/motion_eventtmp
Motion detection enabled for %d:%d (%dx%d@%d.%d, threshold %d)


Audio Support

AirCam.v1.1.3# strings /bin/ubnt-streamer  | grep -i 'audio input'
Audio input %d: enabled, mixer %d, at %d sampling rate, %d channel(s), encoder type %d set to bitrate %d


Motion Support
"Joerg Linge" pointed out:
I am playing around with my new AirCam running AirCam Firmware 1.1.3

It seams /var/run/motion_event is created and the content changes while motion is detected

while true; do cat /var/run/motion_event ; sleep 1; done

Attachments
(2)
Download all attachments as: .zip